Road deaths in the EU are still way off target
The number of victims of road accidents is decreasing year after year in Europe, but its reduction is slower than anticipated. Every year, about 25,000 people still die in accidents in the EU.
Author: Kostas Zafeiropoulos
On the night of 11 August 2016, 29-year-old Aida Hadzialic was driving carefree in Copenhagen. She had drunk a little bit of wine at a bar and was returning home to nearby Malmö in Sweden. Born in Bosnia, she migrated to Sweden in 1992 with her parents when she was five years old, escaping the Balkan wars. She became the youngest minister in Sweden's history, responsible for Secondary and Adult Education. That night, in Sweden, a blood alcohol test showed that Hadzialic had 0.2 grams of alcohol per liter of blood in her body, exactly the limit for drink driving offences in the country. Two days later, with a sense of guilt, she quit her ministerial position saying, "it was the biggest mistake of my life, I will take responsibility for it". If Hadzialic had taken the alcohol test before crossing the bridge into Sweden, she wouldn't have had any such problem, since the limit in Denmark is 0.5 grams per litre.
In recent years, an alarm has been sounded worldwide: deaths by car accidents are expected to become the fifth cause of death in the world by 2030. Every year 1.25 million people are killed in traffic accidents worldwide. Estimated casualties due to drink driving amount to 273,000 (21.8 per cent of road deaths are alcohol-related). Hadzialic's case, as well as her own political courage, highlight a systemic problem in how traffic accident data is recorded in Europe.
Lower limits for alcohol come with less accidents
The fact that blood alcohol concentration limits vary from country to country is considered a major factor in why the European Union is set to miss its stated road safety goals for the end of 2020. Most EU countries have a maximum allowable limit of 0.5 grams per litre, some have a limit of 0.2 grams per litre, while others do not allow any alcohol consumption at all while driving. We analyzed the European road death data for 2010-2018 and then correlated the percentage changes in the number of victims with the permitted alcohol levels in each country.
The table below shows the percentage change in deaths (falling in most countries, where the numbers are positive in the graph) for 2010-2018 in blue, and the permitted alcohol levels per country in red.
Stricter regulations on alcohol consumption greater reduction in casualties.
With the exception of Sweden, which had already greatly reduced its road deaths, it appears that countries which have adopted stricter regulations on alcohol consumption have seen a proportionally greater reduction in casualties. What is really worth noting is that countries which have adopted the 0.2 grams per litre limit (Norway, Poland) have better proportional results than even the countries with a limit of zero grams. However, it is clear that the best overall performances are from countries which do not allow any driving under the influence of alcohol (Slovakia, Hungary, Romania, Czech Republic). Nor is it a coincidence that three out of the four countries with an increased death toll still maintain a maximum alcohol limit of 0.5.
The United Kingdom (excluding Scotland), which has the highest alcohol limit (0.8), has one of the least significant reductions. While Greece has seen an impressive 50 per cent decrease in the number of deaths, credit cannot be given to the alcohol limit (0.5), but rather to the last decade's economic crisis, leading to reduced use of cars, and the country's already very negative position in the 2000-2010 ranking.
The independent NGO European Transport Safety Council  (ETSC) provides impartial expert advice on transport safety matters to the European Commission, the European Parliament, and member states. Based in Brussels, it deals with the reduction of fatal traffic accidents. According to ETSC's data, Slovakia (17%), Slovenia (12%), Lithuania (11%) and Bulgaria (10%) have achieved the best results in reducing traffic accidents in 2018. According to preliminary figures published in 2018, Ireland, Denmark and the United Kingdom rank third in overall road safety. Considering Brexit, if we remove the UK data the EU's overall numbers are worse. The countries with the worst figures are Romania, Bulgaria, Latvia and Croatia.
However, for methodological reasons, European road death data does not tell the whole story.
Definitions
According to the World Health Organization (WHO) and the EU, a "road death" is a death which occurs within 30 days of a traffic accident, as a result of the accident. Road safety activists, on the other hand, insist on the importance of the number of seriously injured people who eventually succumb to their injuries after more than 30 days. Thus, the actual numbers of road deaths should be greater. For every person who loses his or her life in a traffic accident, five suffer life-changing injuries with severe social and financial consequences.
The main issue is that 89 per cent of countries worldwide (and all EU countries except Sweden) rely on just one data source. Police archives are the source in 87.5 per cent of cases. Only six countries worldwide (Cambodia, Iceland, Serbia, Russia, Sweden and the United States) use data sources other than police archives (such as hospital records, toxicology tests, etc.). In the Netherlands, data is examined by the National Statistical Service and verified case-by-case with death certificates and court records of non-natural deaths. In Portugal, the increase recorded between 2010 and 2011 was largely due to a change in accident registration methodology.
Missing targets
For the last five years for which there is available data (2013-2018), only a 4 per cent reduction in total road deaths in the EU has been achieved. The good news is that, over the last decade, European roads have remained the safest in the world, while the latest European Commission's report on road safety  shows a reduction of road deaths in almost all member states. However, there are also year-to-year variations. Internationally, comparative data on road deaths is produced every three years on average. For comparisons between member states, the rate is per one million inhabitants.
In the EU, there were 49 road deaths per million inhabitants in 2018, with a total of 25,058 deaths.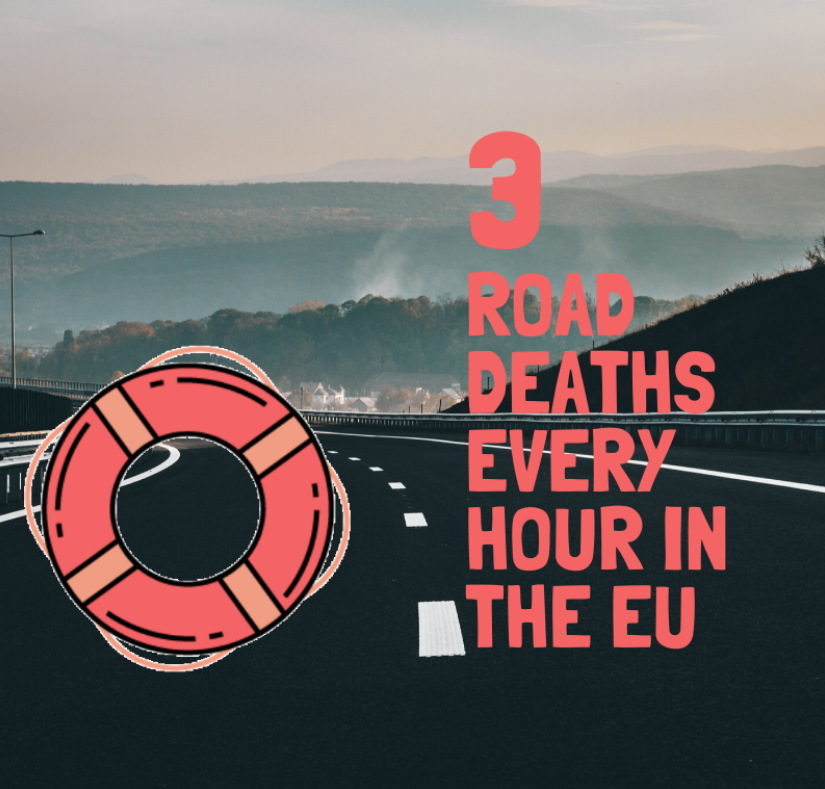 Transport experts contacted by MIIR believe that the 2010-2020 target was already missed long ago. The EU has admitted that too: the goal set in 2010 was to halve the number of deaths by the end of the decade.
The new target  announced by the EU on 17 May 2018 is a reduction in road deaths by 50 per cent by the end of 2030, relative to the 2020 figures. The most important part of this new declaration is that similar targets are now also being set for reducing the total number of car crashes and the total number of serious injuries. The Commission envisions a complete absence of road deaths by 2050.
Reduced fatalities in Greece, but still at the bottom of EU road safety
One of the highest reduction rates for road deaths over the last decade in Europe was recorded in Greece. Even so, Greece still ranks first in the EU for road deaths. During 2010-2018, the overall reduction of deaths in Greece reached 45 per cent (first in Europe), followed by Portugal (35%) and then Slovenia (34%).
According to transport experts and road safety activists in Greece, the national reduction in road deaths is mainly due to a decrease in vehicle traffic following the economic crisis, and much less to the completion of major road works or improvements in the behavior of drivers on Greek roads. The economic and social costs resulting from road-based deaths, injuries and property damage exceed €5 billion annually, or about 3.5 per cent of GDP  .
In 2018 the nationwide accident rate was 999.6 per one million inhabitants. Attica ranked first, with an index of 1,469.2; the Southern Aegean region came second with 1,361.2; and the Northern Aegean region came third with 1,070.4. Road deaths came in at 65.2 per one million inhabitants. The South Aegean region came first with an index of 161.4 (this includes Crete); second was the Peloponnese with 107.5; and Western Greece came third with 97.
More alarm bells
According to the latest provisional statistics from the Traffic Police and ELSTAT (Hellenic Statistical Authority), there were more fatal accidents in 2019 than 2018, from March onwards especially. If the annual numbers are confirmed, this will be the first time in the last 15 years that road deaths have increased. While Greece may be done with bailouts, it seems that the increasing influx of tourists in the country may be causing more blood to be spilled on the asphalt.
In Greece, Crete continues to take the lead when it comes to deadly traffic accidents in proportion to the population. The island's North Road, a project that has been scandalously delayed for years, is urgently required. According to the provisional data, the number of road deaths in Crete reached 60 in 2019, accounting for about 10 per cent of all road deaths in the country. This is higher than the number of deaths in 2018. The North Road project is still in the early stages of planning, with successive governments blaming each other for the delay. The Southern Aegean region, which also includes Crete, continues to be one of the five deadliest areas for serious traffic accidents in Europe.
The third Global Ministerial Conference on Road Safety  will be held in Stockholm on 19 and 20 February 2020. Greek institutions have been invited, but for now their presence has yet to be confirmed, with the exception of the SOS Traffic Crimes Association. Greece sent no representatives to the previous two conferences.
The Greek government's action on road safety has been feeble, to say the least. The country is not even involved in the UN's Decade of Action for Road Safety  (2011-2020). Only recently have the relevant state officials seemed to remember that road safety is an issue: there is a pending agreement with the European Investment Bank to grant €450 million for road network improvements to reduce accidents in Greece.
George Kouvidis, president of the SOS Traffic Crimes Association  , explains to the MIIR that "Road accidents are a matter of public health and not a matter for the Ministry of Transport, as is unfortunately the case in Greece. On the European level, the absence of a common European policy, different speed limits, different alcohol level limits per country, different criminal penalties, the reduction of rail use, the increase in car usage over the last 30 years, and the powerful automobile lobby are the main causes of these fatal car accidents". The SOS Traffic Crimes Association is the most active organisation in Greece dealing with road safety, and was created by people who have lost relatives in car accidents. The organisation's website bears the slogan "People not numbers": there are hundreds of photos and names of people who have lost their lives on Greek roads in recent years.
Vision Zero 
Many years before Europe adopted the goal of zero road deaths, Sweden had already taken the initiative. The plan was named Vision Zero and was officially approved by the Swedish Parliament in 1997. It was first introduced in 1995, and changed the way people thought about road safety. Its guiding principle is that "nobody should die or be seriously injured due to a car accident".
For Vision Zero the problem is not that car accidents take place, but that these accidents lead to death and serious injuries. The road transport network is taken as a system where the various components (roads, vehicles, people) should interact in a safe way. It is therefore of central importance that roads and vehicles are designed in such a way that traffic accidents have a minimal impact on the health and safety of human beings.
Sweden has aimed to reduce serious injuries by one quarter between 2007 and 2020, and all indications point to this goal being met. According to data from 2019, last year Sweden recorded the fewest annual car-related deaths (223) since the second world war. Sweden's efforts proceed according to three basic pillars: reinforcing the work and measures that are proven to have positive results; development and adoption of new measures related to road safety; adjusting the road safety system to ongoing social changes.
Attitudes
The stakes for Europe are huge, economically and socially. In addition to necessary institutional changes and resolving conflicts of interest, reducing road deaths and injuries is also a matter of culture.
Back in 2013, Greece's then Minister of Transport (2004-2007) Michalis Liapis went through a stop sign with his luxury jeep and almost caused an accident. He was not even carrying his driving license. After his arrest, it was proven that Liapis had been driving for two years with fake license plates and had not paid his annual fees. He was condemned to four years in prison, payable at €50 per day, and was eventually expelled from the New Democracy party.
In Sweden, on the other hand, former minister Aida Hadziliac currently leads the opposition party in the Stockholm region
The number of victims of road accidents is decreasing year after year in Europe, but its reduction is slower than anticipated. Every year, about 25,000 people still die in accidents in the EU.
Αuthor: Kostas Zafeiropoulos
This article was published in the European Data Journalism Network – EDJNet.

Support us
—
For Independent investigative journalism, material resources and time are much needed.
We do not accept ads, so help us continue our work.
IBAN: GR08 0140 1040 1040 0200 2028 234 (Alpha Bank)